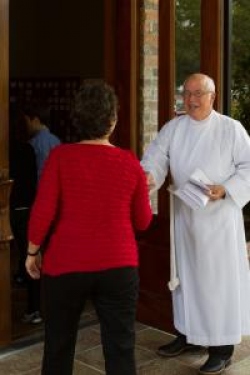 Welcome to St. Mark's Episcopal Church

Are you planning a visit to St. Mark's?
Here's some information that we hope will make you more comfortable.
Sunday Worship Schedule
10:00 AM - Holy Eucharist Rite II (inside the church)
10:00 AM on Facebook LIVE
If you are visiting with us online, please click here to fill out a form so that we can get to know you better and connect you with our parish family.

When You Arrive
Parking is available all around our church building

Usher/Greeters are on hand to welcome you immediately prior to the service. They provide directions, information and distribute servicebulletins. If you have any special needs, please communicate this to an Usher/Greeter so that appropriate accommodations can be made. Our newcomer coordinator, Melissa Hamon, will also be there to offer any assistance you may need.
Visitor Nametags are available for your use and may be picked up as you enter the church. We ask that you wear one so that we may better assist you—you will not be embarrassed or singled out in any way.
During the Service
The Service Bulletin provides a guide to the service. You should receive one from an Usher/Greeter or you may pick one up on your way into the church.
Our Worship Services are interactive and participatory. Everything you need to participate fully can be found in the Service Bulletin. Please don't feel awkward or embarrassed if you're not totally sure about what to do—just do what you're comfortable with! And if you'd like help, the people near you would be happy to assist—just ask.
Visitor Cards can be found in each pew. We ask that you complete one and place it in the offering plate during the Offertory or give it to an Usher/Greeter when you leave. By completing a card, we will be able to thank you for joining us and provide any additional information you may want.
Holy Communion is celebrated at every service. Anyone who has been baptized in any faith is invited to partake in Holy Communion. If you do not wish to take Communion, but would like to receive a blessing from a priest, please cross your arms over your chest at the altar rail.
After the Services
Please join us for our Coffee Hour in the Parish Hall in the Education Building. This is an opportunity for you to meet our parishoners and learn a little more about St. Marks's.

Pick up a Newcomer's Bag before you leave—each bag contains additional information about our parish and a few goodies.