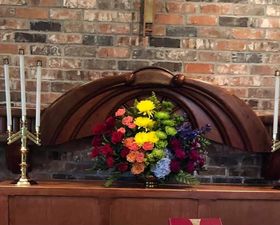 ---
Team Leader: Bettye Newberry

The Altar Guild cares for our altar, our fine linens, and the flowers in preparation for all services.

Donate Altar Flowers
Throughout the year, sponsoring altar flowers is a wonderful way to honor loved ones, commemorate a special occasion or simply give back to the glory of God. There are still a number of Sundays available for sponsorship on the Altar Flower calendar, located on the bulletin board in the back of the church by the kitchen or by clicking on the Sign Up link below. After the flowers adorn the church during Sunday services they are given to sick people of the church. Giving flowers is so easy:
Sign up on the calendar for a specific week(s).
Drop your $60 check in the offering plate or mail to the church office (specify altar flower on your check)
If you have any questions, please contact the church office.